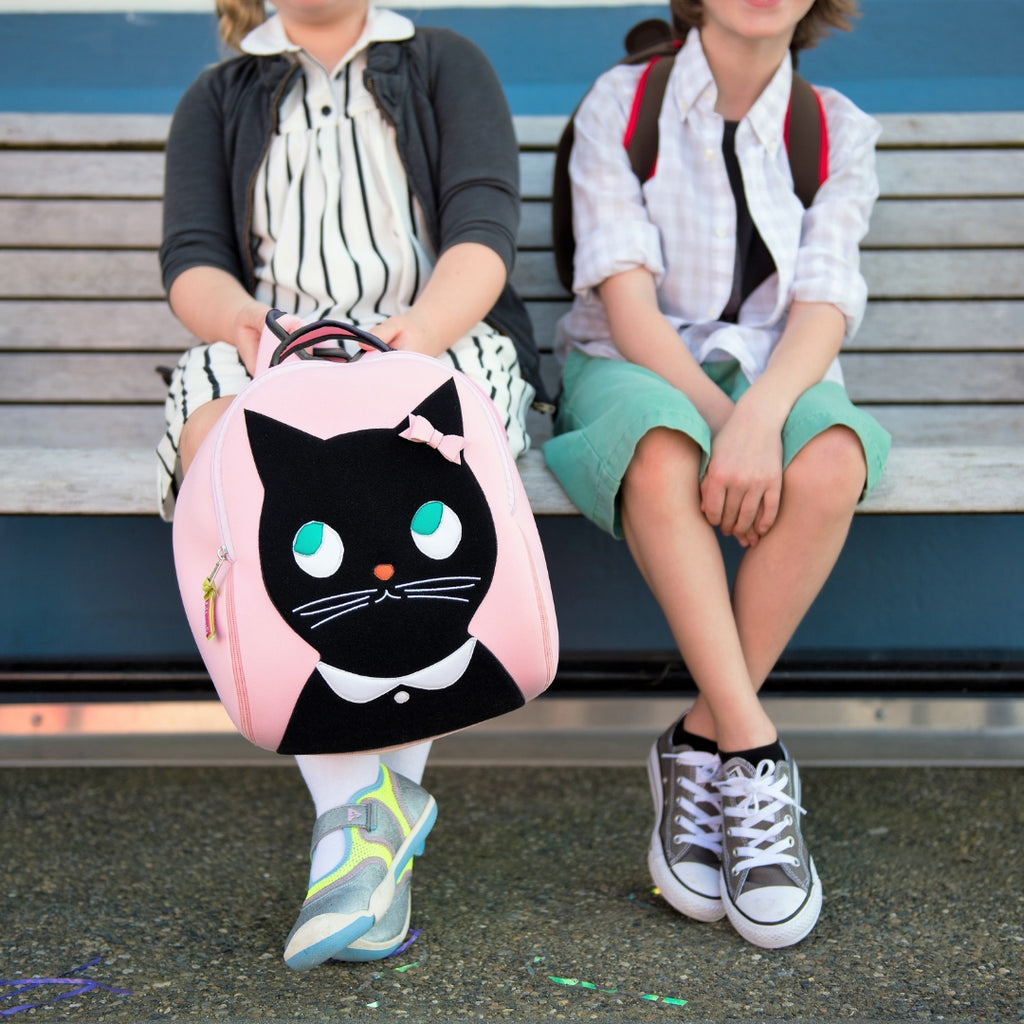 Thanks to Kelly at Our Everyday Harvest for the review of our Penguin Backpack. Click here to see the entire review with her great photos – 
http://www.oureverydayharvest.com/
.
I don't know if it's just me, but summer seems to be flying by so quickly. I was just at the store the other day and wouldn't you know it, they had all of their back-to-school items out. As much as I love the autumn season (it is actually my favorite), I'm trying to soak in the warm weather months as long as possible. After all, summer is my second favorite of the four seasons.
When it comes to family outings, no matter the season, I always make sure to pack a bag with all of the essentials that we'll need for the day;sunscreen, bug spray, towels, extra clothes, etc. Honestly, you never know when you're going to need something, so why not have it on hand. Even when we just get out to run a few small errands, I still make sure to pack a small bag with all of the basic reinforcements such as snacks, a water bottle, books, and a few small toys. With a toddler, you can never be too prepared if you know what I mean.
Since my son is getting older and more independent, it was time to allow him to have his own little bag of goodies for our excursions. I was able to find several bags that were perfect for his age and he does seem to like them. Recently, however, he's been using a new backpack that he absolutely loves above the rest, his new Dabbawalla Bag in this adorable penguin design!
How cute is that…am I right?! If you've been following my blog, then you probably already know I'm all about the cool kid products. After accidentally stumbling upon Dabbawalla Bags online, I immediately took an interest. Sure my son had already owned a few , but it was something about their products that had me curious.
Seattle-based Dabbawalla Bags is the manufacturer of a whimsical crayon-colored collection of stylishly modern bags. The company evolved out of the need in the marketplace for suitably sized children's backpacks and lunch bags made from eco-friendly and sustainable materials that are free of commercial hype. Dabbawalla Bags is the inspiration of Susan Givens, an inveterate world traveler who lives in Seattle, WA. She has partnered with her sister, Carol Mack, a New York designer, and together they share a commitment to designing bags that are fun, functional and socially-responsible.
Since the company initially started out making children's lunch bags, I found their name quite fitting:
Inspired by the legendary system of dabbawallas delivering homemade food to office workers in India, Dabbawalla Bags offers a modern twist with a fun, functional way to tote lunch and gear for families on the go.
Now that you have a little background on the history of the company and how they came up with such a clever name, I can't wait to share why I think these Dabbawalla Bags are so cool!
Let's start with the manufacturing process;every bag is individually stitched by tailors, working under fair trade practices. No two bags are the same;each one has it's own subtle differences. Dabbawalla backpacks are made up of sustainable and toxic-free TPE. This material is a special synthetic foam textile that is very similar to neoprene. The only difference is, TPE is actually environmentally friendly and completely biodegradable. Since it's 100% free of toxins, you won't have to worry about harmful substances such as PVC, BPA, lead, and phthalates. Even the adhesives used in their products are water based, so there's no concerns over nasty VOCs. This is a big deal for me! Whether it's clothes, toys, or accessories, I can't tell you how many times I've come across children's products that put off a strong chemical smell. As a parent, I know that these awful fumes could in no way, shape, or form be good for any kid. That's why I'm all for companies that do the right thing by finding ways to avoid using harmful ingredients in kid's products.
When we initially received my son's penguin backpack, the one thing that stood out for me the most (besides the cute design) was the material. I honestly have yet to come across a children's backpack with the same likeness. Since the TPE material is very reminiscent to neoprene, it is soft, stretchable, and can accommodate a lot of items. What's more, the bag is actually machine washable. If there is one thing that is a must when it comes to , it's that they need to be easy to clean. So if my son's bag gets dropped on the ground or dragged around (and with toddlers this will more than likely happen), I know that I can just throw this into the wash without a worry.
Speaking of being dropped and dragged around, this backpack is super durable. Kids will be kids, and since this bag will be frequently tagging along with us on outings, I can feel comfortable that it's going to last. I also love that it isn't your average one size fits all backpack. This one is specifically made for toddlers and preschoolers in mind, so it's small and compact. At the same time, it's flexible enough to hold a good amount of stuff. There are even three mesh pockets on the inside and one large pocket on the outside for extra easy to reach storage.
I really like how the company designed the straps for their backpacks. The buckle is actually on the inside of the bag, so there aren't all kinds of hard, uncomfortable plastic contraptions on the outside. The straps adjust to fit all different sizes. I was able to tighten them up to accommodate my son's small body size, so he can tote the bag around on his back. At the same time, I was also able to loosen them up all the way to throw one strap over my shoulder, which is perfect for when he gets tired of carrying it.
In addition to the soft, adjustable straps, the bag also has a sturdy grip handle; wide zipper openings, make it all the more kid-friendly; the company's line of lunch bags are just as adorable and functional as their backpacks. I totally love that they even have a matching one that goes with my son's bag.
We have been personally taking this backpack on our latest summer outings. It is the perfect size for my son and is able to hold all the items that he'll need while we're out. The bag is made for toddlers and preschoolers, but with school season swiftly approaching I personally feel that this would also make a great bag for kindergartners. Even homeschool families will find it particularly useful for educational field trips with their young children. All in all, this is a great bag for the little ones! You really can't beat the awesome quality and cute colorful designs that are super fun and signature to the Dabbawalla Bags brand.