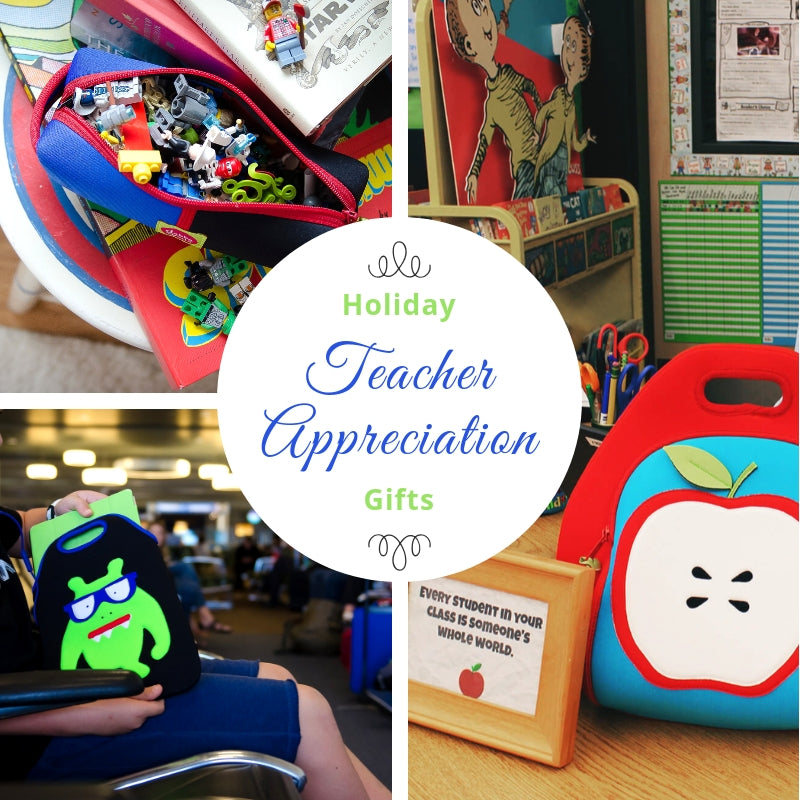 Let's face it, teachers are among the hardest-working, most scrutinized, under-paid, and often underappreciated, lot amongst us.  Really, who else has the power to get your child to actually keep their things organized, turn in their homework on time, or use a tissue instead of their shirt sleeve? With the holidays looming like the big elephant in the room, thoughts in our Seattle office naturally turn to the panic of doing our own holiday shopping and hosting amidst the spare hours we have left during our busy season shipping orders at work.
The holidays take on a special meaning after you've had children, but once your child starts school the added anxiety and pressure of teacher gifts takes hold. Have you thought about what you are going to do for your kids' teachers this year? It can be a challenge to not feel pretty insecure when you give the ubiquitous Starbucks card and someone else crafted the most beautiful handmade set of felt coasters.  Sure, handmade gifts your children helped craft are always wonderful and appropriate, but for those of us juggling multiple kids and full-time jobs, this just adds to the stress of the holidays and really defeats the whole purpose of extending a small token of appreciation.
We're pretty lucky here at Dabbawalla because most of us usually give a monogrammed lunch bag, which makes a terrific, useful gift for teachers who carry a lunch. But this year, several of us are facing a teacher gift "crisis" because our children have the same teacher as they did last year or they already carry a Dabbawalla Bag (being the smart teacher that we knew they were!). So…..while not quite in panic mode yet, we have started the dialogue about what unique gift ideas we have not just for teachers but for the other special people in our lives we want to recognize with a thoughtful token of our gratitude…coaches, the babysitter, the postman…..And as we usually do with these rambling office dialogues, our conversation inspired us to start a Pinterest board of the coolest ideas we could find to date.  Check it out here and follow us as we keep populating it with more ideas for both the crafty and the time-challenged as we get closer to the holidays.  
And when all else fails, and you find yourself the night before the last day of school without a gift, you can always do what is probably most appreciated by teachers – write a handwritten note of appreciation, and extend the precious gift of time in the new year…volunteer in the classroom, help tutor a child who needs a little extra attention, be a playground monitor, or whatever would help make your child's teacher day just a little bit easier.