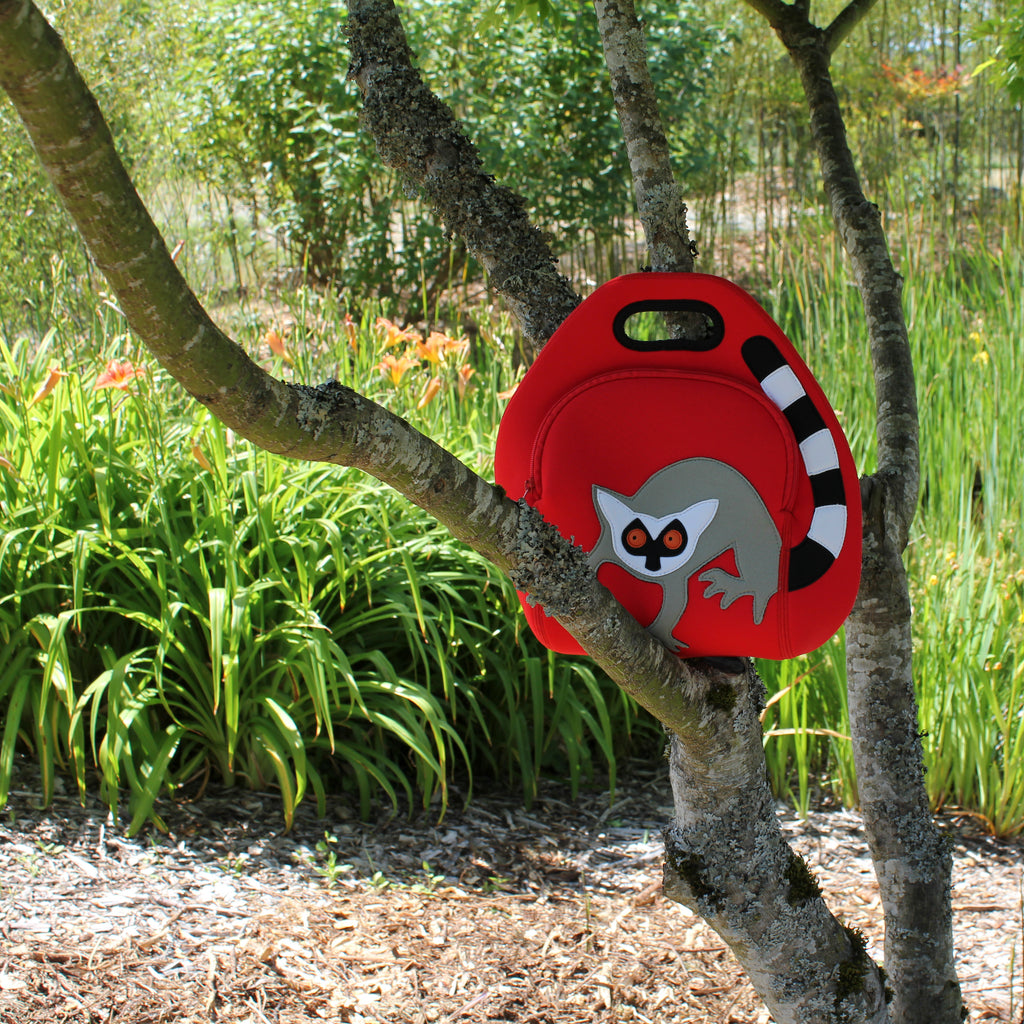 Dabbawalla Bags™, manufacturer of a 100% toxic-free, stylish and whimsical crayon colored line of children's bags, is proud to help raise awareness and support conservation efforts by donating a portion of sales from their newest lunch bag, the Leapin' Lemur.
A portion of the proceeds from Dabbawalla Bags' new Lemur lunch bag will directly benefit the Lemur Conservation Foundation in Myakka City, Florida – a foundation dedicated to the preservation and conservation of the primates of Madagascar through captive breeding, scientific research, and education. Dabbawalla Bags Founder, Susan Givens, served on the board of the foundation from 1996 – 1999, and remains passionate about their important work. In 2016 the Lemur Conservation Foundation (LCF) is celebrating 20 years of protecting lemurs, the most threatened primate on our planet. Additional details on the foundation can be found at http://www.lemurreserve.org or by following their Facebook page at https://www.facebook.com/LemurConservation/.
The Leapin' Lemur bag arrives May 2016 in time for summer camp and back-to-school sales. Like other designs in Dabbawalla Bags' lunch bag line, the Lemur lunch bag (MSRP $30) is made of an eco-friendly and degradable, 100% non-toxic synthetic rubber. It is sized perfectly to hold popular bento-style containers, and has two interior mesh pockets to keep the inside organized and water bottles upright. The lunch bags are also washable, stain-resistant and insulating.
Dabbawalla Bags is built upon a corporate philosophy of being environmentally and socially responsible. The company is partnered with a woman-owned and operated sewing facility in Taiwan, where workers receive benefits and fair trade wages. Each bag is individually crafted by a seamstress who takes great pride in her work to ensure that the finished product meets exacting standards. All materials used have been fully tested and exceed CPSIA standards for safety and are free of PVC, lead and Phthalates.
Dabbawalla Bags, based in Seattle, WA, has built a solid reputation in the kid's marketplace with its eye-popping colorful line of machine-washable lunch bags, backpacks and accessories for little-adventurers-on-the-go. The complete line is available online at www.dabbawallabags.com and at specialty retail stores through the United States, Canada, Asia, Australia and Europe. Download Full PDF Here.
Contact for more information:
Melissa Slagle, Dabbawalla Bags
info@dabbawallabags.com or 877.500.2708