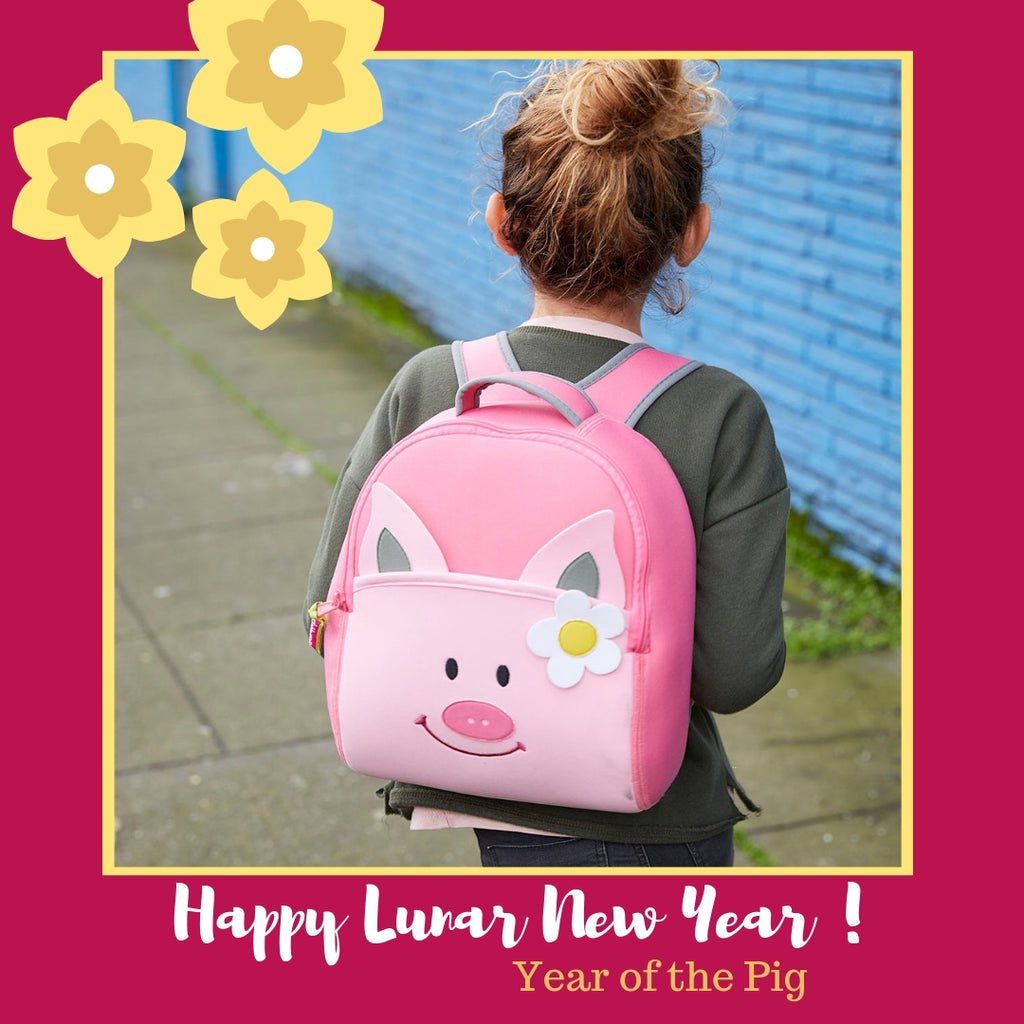 Dabbawalla Bags is excited to celebrate the 2019 Chinese Year of The Pig with its release of the adorable Pink Piglet Backpack. Following the success of their 2018 Year of the Dog Scotty Dog Bag, the Pig Backpack has all the same fun and functional details for which Dabbawalla Bags are known. 
This new limited edition design (MSRP $42.00 ), along with all Dabbawalla styles, is crafted from a light revolutionary foam material that is degradable, recyclable, washable and 100% toxic free. Dabbawalla Bags takes pride in designing the perfect fit for the young bodies of preschoolers and early elementary age children. The Pig backpack includes thoughtful details such as cushioned wide straps, a sturdy grip handle, two interior mesh pockets and one exterior back pocket. innovative design makes it the must-have bag to carry red envelopes and all the necessities to the Lunar New Year celebrations welcoming Spring.
As founder of Dabbawalla Bags, Susan Givens stated, "The design and launch of the Limited Edition Pig Backpack are significant to Dabbawalla Bags because the Lunar New Year is celebrated all over the world and is of utmost importance to welcome a new year of prosperity and health for everyone at this time." Children's health, in particular, plays a significant role in the product design for Dabbawalla Bags. When Susan Given's son was a toddler, she was frustrated by a lack of eco-friendly lunch bags on the market and committed herself to design a machine washable lunch bag free of PVC, lead and Phthalates, and founded Dabbawalla Bags. 
The company is partnered with a family-owned and operated sewing facility in Taiwan, where workers receive benefits and fair trade wages. Each bag is individually crafted by a talented seamstress who takes great pride in her work to ensure that the finished product meets exacting standards. All materials used have been fully tested and exceed CPSIA standards for safety.
Dabbawalla Bags, based in Seattle, WA, has built a solid reputation in the kid's marketplace with its eye-popping line of colorful, machine-washable bag for adventurers-on- the-go. 
To learn more about Dabbawalla Bags complete product line, please visit www.dabbawallabags.com