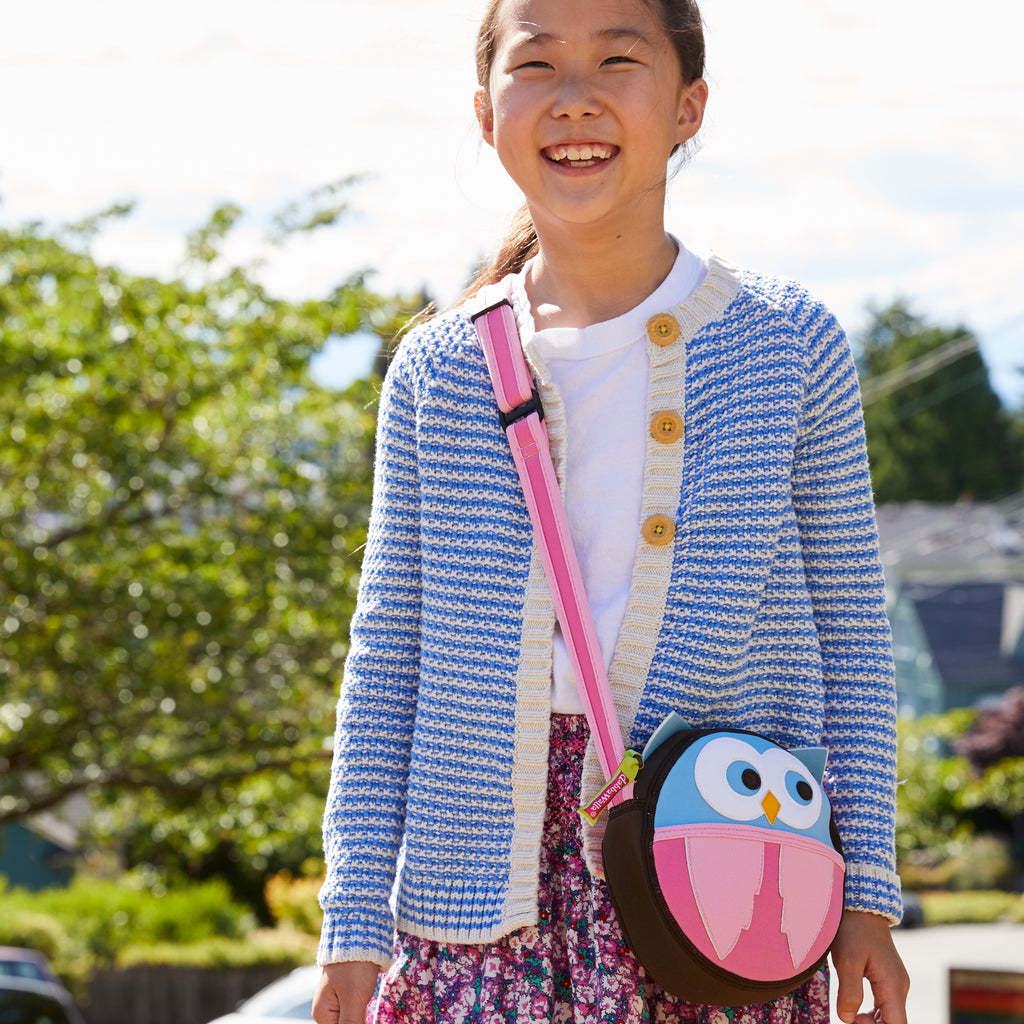 For the Spring of 2018, Dabbawalla Bags introduces four of its most popular styles in a fresh, stylish and always eco-friendly collection of cross body bags geared toward any child age eight and under. Dabbawalla Bags prides itself on being an industry leader by prioritizing sustainable and 100% toxic free materials in the manufacturing of their top-notch line of lunch bags, backpacks and now their new crossbody bag!
The Dabbawalla Crossbody Bag collection carries major impact with its eye-catching colors, striking round shape and famously adorable designs.  These modern and fun crossbody bags come in four playful styles:  Miss Kitty, Hootie Owl, Strawberry Fields, and Cute as a Ladybug. The attached crossbody strap is thoroughly adjustable, durable and couldn't be more comfortable.  Each bag is individually crafted from sustainable materials that are washable, functional and biodegradable.
Susan Givens, founder of Dabbawalla Bags, defines the company as "a boot-strap company, growing organically and learning from our customers who reach out to us to provide suggestions". The inspiration for this latest Dabbawalla collection of bags comes from the Dabbawalla Bags customers who took the time to make a request that Dabbawalla Bags design a small multi-purpose, yet stylish, bag with a long adjustable strap. The Dabbawalla Crossbody Bag is a fashionable circular bag design that provides a unique alternative to traditional square bags and is perfect for carrying any child's favorite items. 
Dabbawalla Bags is a mom-owned, Seattle based company that believes in the fusion of fun, function, and durability. Social responsibility and an ethical approach to manufacturing is not compromised and all Dabbawalla bags are hand sewn at a family-owned and operated facility in Taiwan where workers receive benefits and fair-trade wages.  Parents can take solace in knowing that when they purchase the Dabbawalla Crossbody Bag, it is from a company that produces playful and high-quality products with the health and safety of children at heart. 
The Dabbawalla Crossbody Bag retails for $28.00 and is available April 2018. 
To learn more about Dabbawalla Bags Lunch bags, Backpacks, Accessories and Crossbody Bags please visit www.dabbawallabags.com